You're The Bob-omb
You're The Bob-omb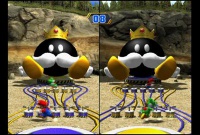 Mario and Yoshi playing You're The Bob-omb.
You're The Bob-omb is a Duel Minigame featured in Mario Party 8. This game is all luck based. The objective is to blow up the Bob-omb on your opponent's side. Both players must choose and press a switch at the same time to light the fuse. Of the 5 switches, only one of them is active. If the player chooses the correct switch, the fuse that is setted off will travel all the way to your opponent's Bob-omb, blowing him/her up, earning you the victory of this minigame.
[edit]
Controls
Hold the Wii Remote horizontally.
D-Pad - Move
A - Press Switch
Related Threads
If you were a bob-omb what would you do???
- last post by
@ Apr 15, 2009
How to kill a Bob-Omb.
- last post by
@ Oct 2, 2011
Boss plus level DK-5+ (Bob-ombs and conveyors) - help
- last post @ Jul 11, 2012
the bob-omb brothers *chapter7- may be a spoiler for some*
- last post by
@ Oct 20, 2004
How to kill a King Bob-omb.
- last post by
@ Aug 8, 2011
Last edited by
canderson
on 5 December 2011 at 15:25
This page has been accessed 329 times.