Verbal Assault
Verbal Assault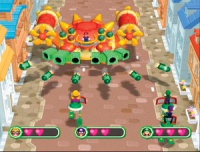 Verbal Assault as shown in Mario Party 6.
Verbal Assault is a 1 vs 3 Mic Minigame that appears in Mario Party 6. The solo player commands a heavily armored battle craft, while the team players have to cooperate and destroy it. As the craft takes damage, the green capsules will break away. Team players have to avoid the attacks that the solo player unleashes at them. If any of the team players are hit three times, they will be eliminated from the minigame.
[edit]
Controls
Solo Player
The solo player has to use the Mic and say any of the following commands: 'Fire', 'Missile', 'Laser', and 'Drop Bombs'.
If you turn the Mic off, you can use the Gamecube controller. Press the R button and the list of commands will appear for the player to select.
Team Players
Control Stick - Move
A - Shoot
Last edited by
canderson
on 6 March 2013 at 21:43
This page has been accessed 160 times.