Throw Me A Bone
Throw Me A Bone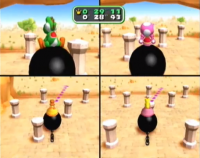 Throw Me A Bone as shown in Mario Party 6.
Throw Me A Bone is a 4 Player Minigame that appears in Mario Party 6. Players have to throw their bones in order to guide their Chain Chomp around obstacles and reach the goal. The Chain Chomp will chase after the bone, so you have to throw them into open spaces to avoid obstacles. If the Chain Chomp touches any obstacle, it will be unable to move momentarily. The first player to guide their Chain Chomp to the goal will win the minigame.
[edit]
Controls
Related Threads
Why won't you throw America a *bleep*ing bone?
- last post by
@ May 14, 2014
Last edited by
canderson
on 4 December 2012 at 21:15
This page has been accessed 176 times.