Strawberry Shortfuse
Strawberry Shortfuse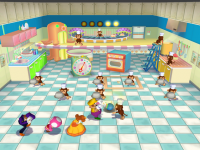 Strawberry Shortfuse as shown in Mario Party 6.
Strawberry Shortfuse is a Battle Minigame appearing in Mario Party 6. There are ten Ukikis, five holding cakes and five holding bombs. Each of the Ukikis will display what they're holding momentarily. Then they'll hide the contents and start to scramble around the room. Afterwards, players must select the Ukiki holding the cake, as selecting the Ukiki with the bomb will lead to elimination. The last player standing will win the minigame.
[edit]
Controls
Control Stick - Move the cursor
A - Select
Last edited by
canderson
on 2 July 2013 at 15:28
This page has been accessed 136 times.