Stamp By Me
Stamp By Me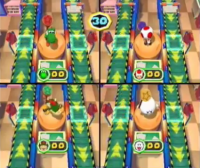 Stamp By Me as shown in Mario Party 6.
Stamp By Me is a Battle Minigame appearing in Mario Party 6. The players must stamp papers on the left and right sides, as the papers are moving along the conveyor belt. As time goes on, the conveyor belt will move more quickly, making it difficult to stamp. The player with the most stamps when time expires will win the minigame.
[edit]
Controls
A - Stamp the right stamp
B - Stamp the left stamp
Related Threads
'Wonder Woman,' 'Girls Trip,' 'Lady Bird' Among First Recipients of ReFrame Gender Parity Stamp
- last post by
@ Jun 7, 2018
Banner?Avatar?Stamp contest!
- last post by
@ Jun 3, 2005
Super Mario 64 DS Stamp/Avatar/Banner Request
- last post by
@ Dec 14, 2012
Avatar, Banner and Stamp requests V1.
- last post by
@ Mar 25, 2005
avatar banner stamp request 1.0
- last post by
@ Jun 24, 2008
Last edited by
canderson
on 2 July 2013 at 15:09
This page has been accessed 182 times.