Snow Whirled
Snow Whirled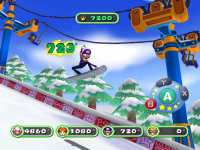 Snow Whirled as shown in Mario Party 6.
Snow Whirled is a 4 Player Minigame that appears in Mario Party 6. The objective is to press the buttons in order to spin your snowboard in midair. You'll gain 90 degrees for each successful button pressed. The faster you go, the more spins you will make. The player with the most spins before touching the ground, will win the minigame.
[edit]
Controls
Press A, B, Y, X in order.
Last edited by
canderson
on 2 December 2012 at 11:40
This page has been accessed 195 times.