Sky Garden
Sky Garden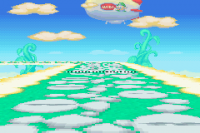 The Sky Garden course.
[edit]
Appearance
Sky Garden is a course found in the two Mario Kart titles Mario Kart: Super Circuit and Mario Kart DS.
The course was originally made for the GBA title Mario Kart: Super Circuit, it later came back in Mario Kart DS as a retro course found in the lightning cup. It`s name pretty much sums up the course, it consists of a light blue almost greenish colored road with white stones. It`s placement is up in the sky atop a cloud or clouds, it has plenty of sharp curves and some jump points. It`s background consists of blue sky and some nice white clouds floating along. There also appears to be a blimp with a picture of Luigi on it, the reason for this is for the most part unknown. It does suggest however that the course may have something to do with Luigi. The terrain is almost like a heavy dirt, slowing you down if you drive onto the edge of the course. There are also small beanstalks of some kind growing on or through the cloud along the course. Going off the edge will of course result in going off the cliff, placing you behind.
Related Threads
Sky Garden Hack?
- last post by
@ Feb 24, 2006
Sky Garden shortcut? or just a hack?
- last post by
@ Feb 25, 2006
Sky Garden Help
- last post by
@ Oct 26, 2008