Rock, Paper, Mario
Rock, Paper, Mario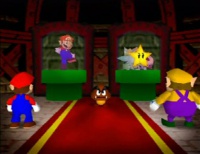 Mario and Wario playing Rock, Paper, Mario.
Rock, Paper, Mario is a Duel Minigame that appears in Mario Party 2. It appears on the Bowser Land board map. The game plays very similar to Rock, Paper, Scissors, in which the objective of this minigame is to pick the stronger character. After both players pick their character, those 2 characters will appear on screen. The winner is determined by the following result: Mario beats Bowser, Bowser beats Peach, or Peach beats Mario.
[edit]
Controls
A - Pick Mario
B - Pick Peach
Z - Pick Bowser
Related Threads
The Paper Mario Wars: GVE: Re-Mastered [REQUEST CLOSURE]
- last post by
@ Aug 11, 2005
Rock the house!
- last post by
@ Jan 30, 2004
This game rocks!
- last post by
@ Sep 21, 2001
Last edited by
canderson
on 15 November 2011 at 18:58
This page has been accessed 337 times.