Ring Shot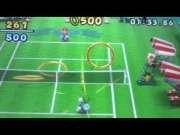 Ring Shot is one of the Special Games featured in Mario Tennis Open. For this special game, the player will have to hit the ball through the rings with the help from another character on the other side of the court. Depending on the size of the ring, will depend on the points. The smaller the ring it is, the more points the player will get. Players can also get points for combos too. The level can be completed when the player reaches the certain amount of points in a certain amount of time. This will change for each difficulty.
When the player completes the third level of Ring Shot, they will unlock Baby Peach as a playable character. Players can also unlock a Princess Peach costume after collecting 800 points and a Princess Daisy costume after collecting 700 points on the same level but with another character,
Related Threads
Ring Shot
- last post by
@ Oct 15, 2002
Ring Shot scores
- last post by
@ Oct 25, 2002
Ring Shot mode
- last post by
@ Sep 27, 2002
Lord of the Rings: The Return of the King (Extended Edition) (2004)
- last post by
@ Dec 17, 2005
The Lord of the Rings: The Scouring of the Shire...
- last post by
@ Nov 19, 2003
Last edited by
Gotenks
on 23 June 2012 at 23:01
This page has been accessed 601 times.