Ricco Harbor
Ricco Harbor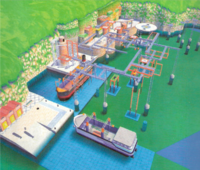 Ricco Harbor Overview
Ricco Harbor is the second stage in Super Mario Sunshine, not counting Delfino Plaza or Delfino Airstrip, and is located on the tail of the dolphin shaped island. Ricco Harbor is a loading port, with lots of ships, docks, and scaffolding, but also has some buildings used for storing and boarding supplies, a lighthouse, a large platform in the middle of the ocean, and a small fruit market. As in all levels in Super Mario Sunshine, there are eight episodes, thirty blue coins, and eleven total Shine Sprites.
[edit]
Chapter Names
The name of the episode are:
[edit]
Bosses
In Ricco Harbor, there is only one unique boss, named Gooper Blooper, who's fought in both episode one and in episode five. Also, like every other level, Mario must fight Shadow Mario in episode seven.
[edit]
In other Games
Ricco Harbor is a court in Mario Power Tennis. It is a gimmick court, where the tiles of the court move depending on if the tennis ball bounces off of them. This can either make the court larger, or smaller depending on which tiles you hit. It's also featured in a challenge, where you try to volley as many times with Gooper Blooper as you can.
Related Threads
Ricco Harbor Episode 8 Help!
- last post by
@ Mar 25, 2006
ricco harbor/nozzles help, please!
- last post by
@ Jul 8, 2005
2nd part of Noki Bay and 8th part of Ricco Harbor
- last post by
@ Aug 2, 2008
how do you move the colorful boxes at ricco harbor!?
- last post by
@ Aug 24, 2007
Ricco Harbor Chapter 6
- last post by
@ Jul 27, 2006