Pop Star
Pop Star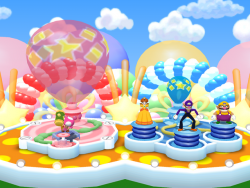 Pop Star as shown in Mario Party 6.
Pop Star is a 1 vs 3 Minigame that appears in Mario Party 6. The solo player uses a hammer to pump air into the balloon, while the team players Ground Pound instead. Team players can pump the most air when Ground Pounding from the highest point of their jump. The first to pop their balloon will win the minigame.
[edit]
Controls
Solo Player
Press A repeatedly to swing the hammer.
Team Players
Press A to Jump. While in the air, press A to Ground Pound.
Related Threads
Star Wars: The Clone Wars (2008)
- last post by
@ Aug 22, 2008
Hollywood's Current Top Action Stars
- last post by
@ Jul 28, 2016
get inside cannon with 0 stars
- last post by
@ Mar 9, 2007