Pedal to the Paddle
Pedal To The Paddle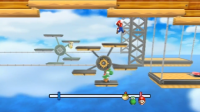 Pedal To The Paddle as shown in Mario Party 9.
Pedal To The Paddle is a Bowser Jr. Minigame that appears in Mario Party 9. The objective is for the two players to rotate their wheel by jumping on the platforms that will spin their wheel in a clockwise direction, towards the goal. Players win if they reach the goal before Bowser Jr.
[edit]
Controls
Hold The Wii Remote horizontally.
Use the Control Pad to move.
2 - Jump