Peach Circuit
Peach Circuit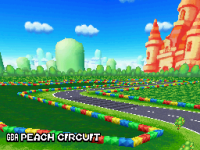 Peach Circuit as it appears in Mario Kart DS
Peach Circuit is a Mario Kart course which first appeared in Mario Kart: Super Circuit. It later came back as a retro course for Mario Kart DS. The course is rather simple consisting of several curves, and is made of pavement. It is surrounded by green grass and trees, with Peach's Castle in the background. Also in the background are tall green hills some shorter than others.
Related Threads
Weekly Time Trials Competition [Current: Yoshi Circuit]
- last post by
@ Jun 19, 2009
Take the Quiz of Mario Kart Super Circuit!
- last post by
@ Feb 23, 2010