Night Light Fright
Night Light Fright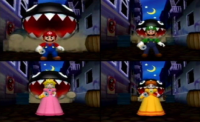 Night Light Fright as shown in Mario Party 5.
Night Light Fright is a 4 Player Minigame appearing in Mario Party 5. Players are in an alley with a Chain Chomp sitting behind them. The Chain Chomp will start to charge towards the players, and the goal is to stop the Chain Chomp as close to you as possible without letting it attack you. That's done by shining your flashlight towards it. If the Chain Chomp attacks, you'll be eliminated. The player who's Chain Chomp is closest to them, will win the minigame.
[edit]
Controls
A - Shine the flashlight.
Related Threads
Friday Night Lights (2004)
- last post by
@ Oct 8, 2005
Fright Night (2011)
- last post by
@ Jul 13, 2012
Last edited by
canderson
on 6 July 2013 at 19:36
This page has been accessed 156 times.