Mario Party 5
Mario Party 5



Box Art

Developer
Hudson Soft
Publisher
Nintendo
Platform
GCN
Release Date(s)
NA November 10, 2003


JP November 28, 2003
EU / AU December 5, 2003
Bowser has made his way into the Dream Depot, and is threatening to make all the dreams into nightmares. In order to get to Bowser, you must first get past his minions, the Koopa Kids to stop Bowser from taking over the world of dreams.
[edit]
Single Player
It's a one versus three match. You must travel through an edited version of each of the maps to steal all of the coins from the blue, red, and green Koopa Kid. Whenever a Koopa is passed up on the gameboard, there is a duel to try to steal there coins, and keep yours.
[edit]
Party Mode
There are two mays to play party mode: Free-for-All, and two teams of two. You win the same way as in the other Mario Parties, by having the most stars, or coins if the star amount is tied, at the end of the match. In team match, whichever team has the most stars and coins wins. The number of turns is set from between 10 and 50 at multiples of 5. If bonuses are set to on, then at the end of the match three additional stars will be awarded. They are:
Mini-Game Star- Whoever won the most coins in mini-games
Coin Star- Whoever got the most coins in the game
Happening Star- Whoever landed on the most happening (?) spaces
In addition, if bonuses are turned on, then random spaces on the board will have chests that are not visible until the player lands on that space. the chest may contain coins, or even a star.
Mario Party 5 has seven maps, six available from the start and one unlocked when story mode is completed. All of them are in the form of a dream, except for Bowser's which is in the form of a nightmare. They are:
Toy Dream
Rainbow Dream
Pirate Dream
Undersea Dream
Future Dream
Sweet Dream
Bowser Nightmare (Unlockable)
[edit]
Characters
There are ten playable characters in Mario Party 5. They are:
Returning Characters:
Mario
Luigi
Peach
Yoshi
Wario
Waluigi
Daisy
New Characters:
The characters which you are not allowed to be in single player from the above list are Koopa Kid, Toad, and Boo.
[edit]
Mini-Games
4-player Mini-Games:
Chimp Chase
Chomp Romp
Coney Island
Dodge Bomb
Fish Upon a Star
Flower Shower
Frozen Frenzy
Ground Pound Down
Leaf Leap
Pushy Penguins
Coin Cache *
Dinger Derby
Fish Sticks
Hotel Goomba
Hydrostars
Later Skater
Mazed & Confused
Night Light Fright
Pop-star Piranhas
Rumble Fumble
Triple Jump
Vicious Vending *
Will Flower

1 vs 3 Mini-Games:
Beam Team
Big Top Drop
Curvy Curbs
Fight Cards
Flatiator
Heat Stroke
Mario Mechs
Mathletes *
Quilt for Speed
Revolving Fire
Squared Away
Tube it or Lose It

2 vs 2 Mini-Games:
Banking Coins
Berry Basket
Bus Buffer
Clock Stoppers
Defuse or Lose
Handy Hoppers
ID UFO
Manic Mallets
Mario Can-Can
Panic Pinball
Rumble Ready
Submarathon

Battle Mini-Games:
Astro-Logical
Bill Blasters
Lucky Lineup
Random Ride
Tug-o-Dorrie
Twist 'n' Out

Duel Mini-Games:
Blown Away
Bound of Music
Button Mashers
Countdown Pound
Get a Rope
Head Waiter
Merry Poppings
Piece Out
Pound Peril
Pump 'n' Jump
Shock Absorbers
Shy Guy Showdown
Sky Survivor
Whomp Maze
Wind Wavers

DK Mini-Games:
Banana Punch
Da Vine Climb
Mass A-peel

Bowser Mini-Games:
Cage-in Cookin'
Rain of Fire
Scaldin Cauldron

Last Minigame:
Frightmare


(* indicates that they are a coin-collecting Mini-Game)

[edit]
Capsules
There are a total amount of twenty eight capsules in Mario Party 5, each one doing something different. Majority of the capsules are thrown on different spaces with the hopes of someone landing on them. The space which it is thrown on will put a symbol down depending on what capsule was thrown. All of these capsules can be, in addition, used on yourself. However, using one of these capsules will cost you coins. The other capsules you keep to prevent capsule effects, such as a bone to distract chain chomp trying to steal your coins or stars. You may carry a maximum of three capsules. There are three main types of capsules, and several in there own group. There are:
Movement Capsules-move a player from place to place Coin Capsules- If landed on, coins are lost Thief Capsules- Steal or mix up all the players capsules
[edit]
Super Duel Mode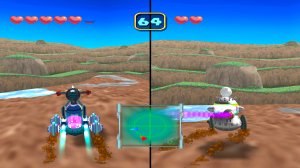 In super duel mode you use points to buy car parts to try to assemble the best machine you can. You can then compete in tournaments and in matches with a friend by destroying there car.
The top three sets for a car would be the Skolar set, the DK set, and the E. Gadd set.
There are three different modes to battle with, each has a time limit of 90 seconds before restarting.
Battle Competition- Use your weapon to try to destroy the other player's car.
Flag Competition- You must collect three flags of your color before your opponent collects three flags of there color.
Robo-Rabbit Competition- You must destroy three robo-rabbits before your opponent does.
Related Threads
Mario Party 5, the Official Picture Thread.
- last post by
@ Nov 6, 2003
Which one is better: Mario Party 4 or Mario Party 5?
- last post by
@ Jun 26, 2004
Mario Party 4 VS Mario Party 5
- last post by
@ Nov 5, 2008
~ Mario Party 4 VS. Mario Party 5 ~
- last post by
@ Jul 2, 2004
The Mario Party 5 Club-Hosted by NSX and Luigi88! Pyrazor is helping too!
- last post by
@ Oct 7, 2003