Mario & Sonic at the Olympic Games
[edit]
Background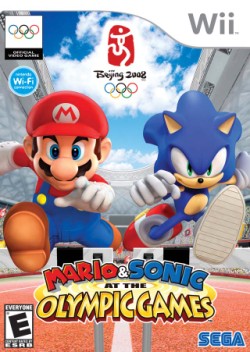 Mario & Sonic at the Olympic Games is a sports game in the Mario series and Sonic series. It is the first game to feature a crossover between the Mario universe and the Sonic universe. In Mario & Sonic at the Olympic Games, players will compete in events that take place in environments based on the official venues of the Beijing 2008 Olympic Games. Using a supporting cast of characters from the amazing worlds of both Mario and Sonic, gamers will be able to compete as or against a range of lovable personalities including Mario, Sonic, Luigi, Knuckles, Yoshi, Tails and more. Innovative usage of the Wii and DS control systems to maneuver a favorite character will allow players to race the likes of Mario and Sonic down the 100m track, engage in exhilarating rallies in table tennis and churn water in a swimming heat, all while competing for the much sought after gold medal. A sequel called Mario & Sonic at the Olympic Winter Games would later be released.
[edit]
Playable Characters
There's four character types, each with four characters.
[edit]
All-Around
[edit]
Features
Compete in stylized Olympic venues with authentic sports and events to choose from including track & field, archery, skeet shooting, table tennis, gymnastics and more.
Select your favorite playing style from the all-star cast of Mario and Sonic characters with four player types to choose from: all-around, technical, speed, and power. Examples: Mario (All-around), Peach (Technical), Yoshi (Speed), Bowser (Power), Sonic (Speed), Knuckles (Power), Tails (Technical), Amy (All-around).
Game Modes: Try out each event individually with Single Match mode, compete for the highest overall score in a series of events in Circuit Mode, or take on challenges created specifically for each character in the Mission Mode. Up to four players can play together on the Wii.
Unlockable stages where familiar items from the worlds of Mario and Sonic enhance the challenge of each unique event.
Related Threads
mario and sonic at the olympic games forum
- last post by
@ Dec 7, 2008
Mario and Sonic at the olympic games
- last post by
@ Aug 25, 2008
sonic mario olympic games ds
- last post @ Apr 24, 2011
shadow appearing in mario and sonic at the olympics
- last post @ Nov 25, 2007
What Olympic game are you looking forward to the most?
- last post by
@ Jul 25, 2007