Manic Mallets
Manic Mallets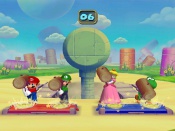 Manic Mallets as shown in Mario Party 5.
Manic Mallets is a 2 vs 2 minigame appearing in Mario Party 5. Players have to avoid getting crushed by an enormous hammer behind them. The goal is for players to use their hammer to hit the switch as many times as possible, within 10 seconds.
As the team players are rapidly hitting the switch, the large hammer starts to raise from the bottom and faces the direction of one of the two teams. The team, in which the hammer is facing indicates that they're losing and will be crushed when time expires. The team who hits the switch the most times will win the minigame, while the other team gets crushed by the hammer.
[edit]
Controls
A - Press repeatedly to swing hammer.
Last edited by
canderson
on 27 July 2013 at 06:54
This page has been accessed 197 times.