Luigi's Mansion (Track)
Luigi's Mansion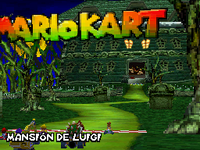 The Luigi's Mansion course as it appears in Mario Kart DS
[edit]
Background
see also Luigi's Mansion
Luigi's Mansion is a track that has appeared in multiple games in the Mario Kart Series. Both versions of the course have a night time setting and somewhat of a spooky theme that plays in the background.
[edit]
Track Description
Luigi's Mansion is a battle course in Mario Kart: Double Dash!!. The course is made up of 3 levels for players to face off in battle. Everyone starts the battle on the 2nd floor, which resembles a Ball Room. The first floor is usually where most of the action happens as it contains the most Item Boxes of any floor on the level. Avoid traps and lay some of your own down here for success. The third floor is actually a roof terrace with no Item Boxes whatsoever. In the center of this terrace, players can fall directly to the 2nd floor. There are bending corridors that lead up and down the house to different floors.
In Mario Kart DS, Luigi's Mansion appears as the last course in the Mushroom Cup. The race starts in a spooky forest and will eventually lead up and through a tall house. The first set of Item Boxes is located at the entrance to the house, so this is where much of the early action will take place. Near the exit of the house, players come across the second set of Item Boxes as they set out back into the forest. After a couple of twisting turns, you will come across a muddy area with a few moving trees and Item Boxes. The traction is quite bad when trying to turn in the muddy area, so try to point yourself toward light, green areas before hitting the muddy area. You can easily gain time in this section of the course as you head back to the Start/Finish line. To say a race on this course can be won or lost on how you get through the muddy section of the last lap would definitely be true.
Luigi's Mansion returns as a course in Mario Kart 7. It is the final course of the Shell Cup. There are a couple of minor changes from the course's Mario Kart DS format. First off, there is a ramp that lets players use the newly introduced gliders. Also, all the portraits inside the house are of Boo now. The Boo will try to pop out of their portraits when racers go by them.
Related Threads
Luigi mansion 2 compared to Luigi mansion 1
- last post @ Nov 7, 2013
GamesTM Gives Luigi Mansion a 9/10
- last post by
@ Mar 19, 2013
luigis mansion 2 ideas
- last post by
@ Jan 15, 2008
Where can I buy Luigis Mansion?
- last post by
@ Sep 1, 2005
How to play Luigis Mansion Battle
- last post by
@ Nov 20, 2003