Light Up My Night
Light Up My Night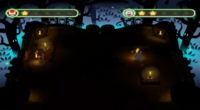 Light Up My Night as shown in Mario Party 6.
Light Up My Night is a Duel Minigame appearing in Mario Party 6. Players are in a dark maze and they must scramble around to find the candles and light them up. The first player to light up five candles will win the minigame. Each time the minigame is played, the layout will always change.
[edit]
Controls
Control Stick - Move
A - Light A Candle
Related Threads
is there anyway to light up the dark rooms?
- last post by
@ Jan 5, 2007
Friday Night Lights (2004)
- last post by
@ Oct 8, 2005
how do u look up @ the light in main hall?
- last post by
@ Mar 2, 2007
Last edited by
canderson
on 1 July 2013 at 12:33
This page has been accessed 191 times.