King Boo's Puzzle Attack
King Boo's Puzzle Attack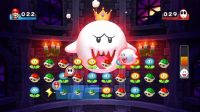 King Boo's Puzzle Attack as shown in Mario Party 9.
King Boo's Puzzle Attack is a Boss Minigame that appears in Mario Party 9. Players must line up three or more of the same item in order to launch an attack at King Boo. You can deal more damage if you line up the Lightning Bolts, which appears occasionally. For the regular items, you will obtain the amount of points that corresponds to the amount of items you have lined up. The Lightning Bolts will earn you ten points and cause your opponents to lose three points.
When King Boo's life bar reaches it's midpoint, he will launch a Boo on the puzzle board. If Boo manage to touch the player's cursor, he/she won't be able to move until he/she knocks Boo off by shaking the Wii Remote. The player with the most points will win the minigame and obtain the most Mini Stars.
[edit]
Controls
Hold The Wii Remote sideways.
Press the Control Pad to move the cursor. Press 2 to select an item and press the Control Pad up, left, right, or down to switch the item you selected with another item. When Boo appears and grabs your cursor, shake the Wii Remote to get it off of you.
Related Threads
Tips for beating King Boo
- last post by
@ May 31, 2010
Searching King Boo's laugh
- last post by
@ Mar 9, 2006
Theories about King Boo
- last post @ Jun 28, 2016
King Boo
- last post by
@ Jun 3, 2013
A Look At King Boo
- last post by
@ Mar 2, 2013
Last
edited
by 65.120.80.8 on 22 May 2014 at 07:43
This page has been accessed 674 times.