King Banana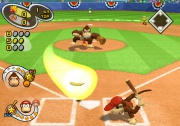 King Banana is an item that appears in the Challenge Mode of Mario Superstar Baseball. It can be purchased at the store in Challenge Mode and will give the player access to Donkey Kong's Power Shot, the Banana Ball. It is only available through the store when Donkey Kong is the team captain, or captain of another team. He will not need it for Exhibition Mode, as he will be able to use it at any time he wants.
Last edited by
Gotenks
on 8 August 2013 at 21:54
This page has been accessed 189 times.