Insectiride
Insectiride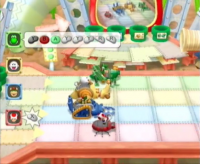 Insectiride as shown in Mario Party 6.
Insectiride is a Battle Minigame appearing in Mario Party 6. Players must use one of four vehicles and race to the finish. Each vehicle has a description of what you must do with it. The player who reaches the goal first will win the minigame.
[edit]
Controls
A, B, Y, X, L, R - Press as instructed
Grasshopper: Press the 8 buttons as instructed.
Snail: Press A when it extends.
Beetle: Press the button as instructed.
Ladybug: Press the button 10 times quickly.
Last edited by
canderson
on 2 July 2013 at 15:02
This page has been accessed 217 times.