Ice Flower Cup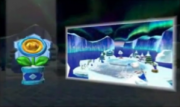 The Ice Flower Cup is the second cup in the Star Open Tournament Series featured in Mario Tennis Open. it is unlocked after the 1-Up Mushroom Cup is completed and it is the counterpart to the Flower Cup in the World Open Tournament Series. It is played on the Penguin Iceberg court where the computer player difficult is comparable to the later cups of the World Open.
The Ice Flower would have a slight chance in its design to the Flower Cup of the game as the stand is a dark blue with a light blue diamond shape in the middle. The rims of the cup is light blue and behind the Ice Flower is a light blue snowflake-like shape.
Related Threads
Fire flower vs. Ice flower
- last post by
@ Mar 7, 2010
Last edited by
Gotenks
on 31 May 2012 at 22:43
This page has been accessed 309 times.