Goomba Village
Goomba Village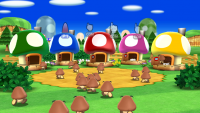 Goomba Village as shown in Mario Party 9.
Goomba Village is a Free-for-All Minigame that appears in Mario Party 9. Players must watch the Goombas as they run into the different Toad Houses. The objective is for players to select the Toad House that consists of the most Goombas. Two people can not select the same house, so players must be quick when selecting the house of their choice. The player who chooses the Toad House with the most Goombas will win the minigame.
[edit]
Controls
Hold The Wii Remote vertically.
Point at the Toad House you want to choose.
A - Select Toad House
Related Threads
Goomba Village
- last post by
@ Nov 22, 2007
Last edited by
canderson
on 22 April 2012 at 08:12
This page has been accessed 331 times.