Garden Grab
Garden Grab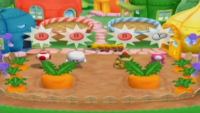 Garden Grab as shown in Mario Party 6.
Garden Grab is a 2 vs 2 Minigame appearing in Mario Party 6. Players must work together to pull a large carrot from underground. They must alternately press buttons for quicker results. Once the carrot is almost out, players must press the button as quickly as possible. The first team who pulls out the carrot will win the minigame.
[edit]
Controls
A, B, X, Y, L, R - Press the button that is displayed.
Last edited by
canderson
on 3 July 2013 at 12:50
This page has been accessed 189 times.