Game Guy's Sweet Surprise
Game Guy's Sweet Surprise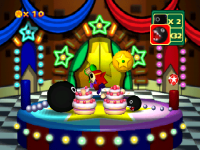 Game Guy's Sweet Surprise as shown in Mario Party 3.
Game Guy's Sweet Surprise is one of four Game Guy's luck-based Minigames that appears in Mario Party 3. The objective is to choose the Chain Chomp who you think will finish its cake first. If the larger Chain Chomp wins, your coins will be doubled, whereas if the smaller Chain Chomp wins you can increase your coins up to 32 times the amount you started with. Before the match, you can see a description of their mood which can play a role in the competition. If you choose the losing Chain Chomp, you will lose the minigame, as well as all of your coins.
[edit]
Controls
Control Stick - Choose Chain Chomp
A - Select Chain Chomp
Related Threads
Game Guy's Magic Boxes
- last post by
@ Sep 21, 2008
do u guys think this game will be able to connect with the gba advance and u will be able to get cool stuff?
- last post by
@ Nov 18, 2003
This guy completed this game in 11 mins
- last post by
@ Apr 2, 2009
who do you guys think was the hardest secret character to get in this game?
- last post by
@ Jan 29, 2014
Did any of u guys's gamestop's not get the game because the shipper people forgot to give the game
- last post by
@ Aug 1, 2007