Freeze Frame
Freeze Frame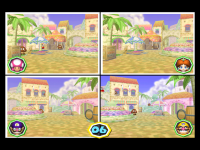 Freeze Frame as shown in Mario Party 6.
Freeze Frame is a 4 Player Minigame that appears in Mario Party 6. Players have one shot to capture as many Goombas as they can in a photo. Each Goomba is worth one point. In daytime, a Shy Guy will briefly appear, and in nighttime, a UFO will briefly appear, both being worth 3 points. The player with the most points will win the minigame.
[edit]
Controls
Control Stick - Move camera.
A - Take a photograph.