Flying Squirrel Mario
Flying Squirrel Mario is one of Mario's powers that is featured in New Super Mario Bros. U for the Nintendo Wii U. As seen in the trailer, Mario transforms into Flying Squirrel Mario through the use of an ordinary-looking acorn (minus the eyes, which are similar to the Mushroom's called the Squirrel Acorn.
Using the acorn, Mario grows wings that sprout from his feet all the way to his underarm, as well as a nifty little tail. His hat also changes in appearance - the bill becomes the nose of a flying squirrel and it grows ears. Mario's clothing changes color as well - his overalls are now red, and his underclothes are dark gray instead of white.
The other characters in New Super Mario Bros. U are also able to use the Acorn power-up to access this form. Luigi, Yellow Toad, Blue Toad and your Mii all get to join in on the squirrely fun!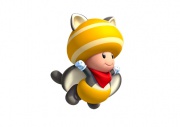 When Mario is in this form, he is able to glide against the wind and use the gentle breeze to carry him. While he cannot jump higher than normal, his descent speed is lessened, and it takes him much longer to touch the ground. He is also able to grapple onto walls to hang and execute a well-timed wall jump.