Fishing Hut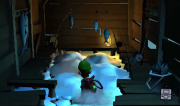 The Fishing Hut is one of the rooms found inside of the Secret Mine in Luigi's Mansion: Dark Moon. It can be found by entering the door on the right inside of the Ic Lake. It is a small room that is used for storing fishing equipment as several fishing poles are found here with their lures intact and a bucket with some fish in it. There is also a fish hanging on the left side of the room. The door to the south will lead back into the Ice Lake and the floor below will lead to Under The Ice.
In D-1: Cold Case, Luigi will need to visit the Fishing Hut in order to free the Toad Assistant that is trapped in the portrait. When Luigi first enters the Hut, a Boo will laugh at him before disappearing into the floor. Luigi will need to suck up the snow on the ground to see a reflection of the Toad portrait. He will then need to use the Dark-Light Device on the north wall to reveal the portrait and then use it again to free the Toad. If Luigi pulls the lures that are on the fishing lines, this will cause a bucket of fish to spit out coins, bills and Gold Bars.
When Luigi enters the Fishing Hut and looks below the floorboards on the left side, he will be able to see a sapphire that is trapped in snow. Using the vacuum, Luigi can vacuum up the snow to release the gemstone.
Last edited by
Gotenks
on 7 July 2013 at 16:00
This page has been accessed 186 times.