Fight Cards
Fight Cards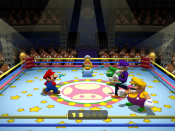 Fight Cards as shown in Mario Party 5.
Fight Cards is a 1 vs 3 Minigame appearing in Mario Party 5. The solo player has five chances to beat the team players by matching one of three symbols that the team players have selected. If the solo player matches a symbol from any of the team players, then that team member will be eliminated. The solo player must eliminate all team players in 5 attempts to win the minigame, otherwise the team will win.
[edit]
Controls
Solo Player and Team Players
A - Punch Sign
B - Chop Sign
X - Kick Sign
Last edited by
canderson
on 27 July 2013 at 06:45
This page has been accessed 238 times.