Dry Dry Ruins
Dry Dry Ruins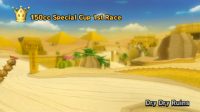 The Dry Dry Ruins course as it appears in Mario Kart Wii
Dry Dry Ruins is the first track of the Special Cup in Mario Kart Wii. This is a sand-based track that imitates the Egyptian pyramids and atmosphere, as well as Middle Eastern music. There are also pillars falling at various parts of the track at various times. Towards the middle of course there is a large underground chamber that players drive through with Pokeys inside along with a pile of sand that's grows larger with each lap as sand falls from the ceiling. At the exit to the chamber there is a large jump leading towards the end of the lap.
[edit]
Shortcuts
1) When you hit the last curve of the track, cut through the sand with a speed-boost item.
2) Just after the first turn in the temple, cut through the sand with a speed-boost item, instead of the jump panels.
3) In laps 2 and 3, do a trick off the fallen pillar on the third turn instead of drifting around it. The pillar might not have fallen yet in lap 2, but definitely will have in lap 3.
4) Use a speed-boost item to cut the second corner.
Related Threads
Dry Dry Ruins
- last post by
@ Aug 6, 2002