Dry Dry Outpost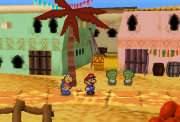 Dry Dry Outpost is a town found in the Dry Dry Desert in Paper Mario. The town is inhabited by Little Mousers, as well as Moustafa, who would give Mario an item that gives him access to the Dry Dry Ruins.
During the events in Paper Mario: The Thousand-Year Door, Lumpy would talk about visiting Dry Dry Outpost during his quest to find oil. Mario would find out about Lumpy's visit during "Part 3: A Helping Hand", the third tale of his adventure.
[edit]
Area Tattles
"It's Dry Dry Outpost. Lots of Dryites and Nomadimice live here. I'm so happy to find civilization after crossing that desert. Despite the climate, lots of travelers seem to come here. Still, they can't get that many tourists. It's too hot!"
"I heard that this town was originally founded by thieves from the desert. It's a pretty mysterious town, don't you think? There are all kinds of stories and legends about this place. The residents around here love all those old tales."
Last edited by
Gotenks
on 3 September 2012 at 01:58
This page has been accessed 299 times.