Donut Plains 1
SNES Donut Plains 1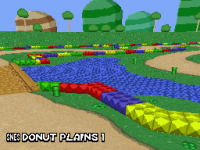 SNES Donut Plains 1 as it appears in Mario Kart DS
[edit]
Description
Donut Plains 1 is a relatively short course which first appeared in Super Mario Kart for the SNES. Players race on a dirt road surrounded by grass and a small lake which serves the purpose of the courses only bridge. There are also Warp Pipes scattered around the course and the background features tall rolling hills. This course is not to be confused with the Donut Plains 1 level in Super Mario World.
This course first appeared in the very first Mario kart game Super Mario Kart for the SNES and is the second course of the Mushroom Cup.
It than appeared in the Mario Kart game for the Game Boy Advance Mario Kart: Super Circuit as a remade track.
The course has then appeared for a third time as a retro course in Mario Kart DS, in this game it is the first race of the Banana Cup. Throughout all of these games the course has remained largely the same.
Related Threads
SNES Donut Plains
- last post by
@ Jun 21, 2008
ladida plains 1-6
- last post @ Jan 7, 2013
Ladida Plains 1-5
- last post @ Jun 22, 2009