Dizzy Dinghies
Dizzy Dinghies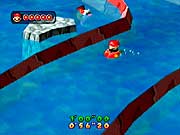 Mario playing Dizzy Dinghies.
Dizzy Dinghies is a Rare Minigame that appears in Mario Party 3. This is unlocked when you've played all of the 4 Player, 1 vs 3, 2 vs 2, Item, Duel, and Battle Minigames. This is a single player minigame and the objective is to choose one of three boats, each with difference performance capabilities, and race to the goal in one of three tracks. The three boats you're able to choose from are: Normal Type, Non-Slip Type, and Speed Type. Each track gets more difficult than the previous track. This is a minigame in which you try to set an excellent record.
[edit]
Controls
Control Stick - Steer
A - Accelerate
Last edited by
canderson
on 25 February 2012 at 11:56
This page has been accessed 295 times.