Curvy Curbs
Curvy Curbs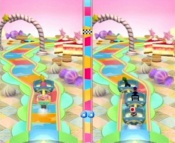 Curvy Curbs as shown in Mario Party 5.
Curvy Curbs is a 1 vs 3 Minigame appearing in Mario Party 5. The solo player, as well as the team players must guide their cart through the narrow path to reach the goal. Touching the walls with cause the player to stop temporarily. This is tough for the team members, since if any member touches the wall, the entire team stops. The first one to reach the goal will win the minigame.
[edit]
Controls
Solo Player and Team Players
Last edited by
canderson
on 27 July 2013 at 06:19
This page has been accessed 188 times.