Chip Shot Challenge
Chip Shot Challenge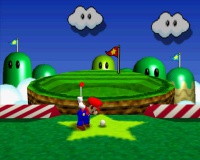 Chip Shot Challenge as shown in Mario Party 3.
Chip Shot Challenge is a 4 Player Minigame that appears in Mario Party 3. This is a game of golf. Players must aim the ball and hit it as close to the hole as possible. The players who successfully hits their ball into the hole will automatically win. If no one manages to hit the ball into the hole the winner will be determined by the person who has hitted the ball closest to the hole.
[edit]
Controls
Control Stick - Left/Right to Aim Ball, Up/Down to Adjust Shot Strength
A - Hit Ball
Last edited by
canderson
on 25 February 2012 at 11:19
This page has been accessed 355 times.