Cash Flow
Cash Flow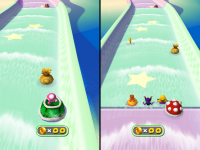 Cash Flow as shown in Mario Party 6.
Cash Flow is a 1 vs 3 Bonus Minigame that appears in Mario Party 6. The objective is for players to simply grab the coins and coin bags as they go down a water slide, while avoiding the Spiny shells. If any of the team players hit a Spiny shell, they will be eliminated from the inigame. The solo player will just get stunned momentarily if hit by a Spiny shell. Players will be able to keep the coins they've obtained in this minigame.
[edit]
Controls
Last edited by
canderson
on 6 March 2013 at 21:28
This page has been accessed 201 times.