Cage Match
Cage Match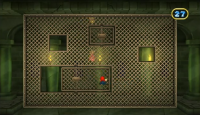 Cage Match as shown in Mario Party 9.
Cage Match is a Bowser Jr. Minigame that appears in Mario Party 9. The objective is for the two players to catch Bowser Jr. as he climbs and moves around the fence. You can hit Bowser Jr. from the other side of the fence to temporarily stun him. The best way to tackle the minigame is for one player to remain on one side of the fence, while the other player remains on the opposite side. Players will win the minigame when either of them touches Bowser Jr.
[edit]
Controls
Hold The Wii Remote sideways.
Use the Control Pad to move. Press 1 to hit the fence. Press 1 while on the revolving doors to switch which side of the fence you're on.
Related Threads
Cage match
- last post by
@ Oct 26, 2010
Cage Match Help
- last post by
@ Nov 2, 2009
anyone can add me for some cage matches.
- last post by
@ Jun 17, 2008
I Lost cage match when I bought stimulas
- last post by
@ Jul 14, 2010
Headshots without cage matches?
- last post by
@ May 28, 2010
Last edited by
canderson
on 7 April 2012 at 14:19
This page has been accessed 294 times.