Button Mashers
Button Mashers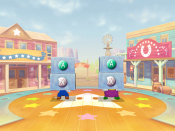 Button Mashers as shown in Mario Party 5.
Button Mashers is a Duel Minigame appearing in Mario Party 5. Blocks are falling from the sky and the players must grab a hold of the blocks and avoid getting crushed. One block will fall and players must repeatedly press the button as shown on the block. Failure to press the button as quick as possible will result in you getting crushed.
After a certain amount of time, if both players are managing with their first block, a second block will fall. Now players must press both buttons repeatedly. If necessary, this minigame will keep going up to six blocks, in which players must press all 6 buttons(A, B, X, Y, L, and R) repeatedly and simultaneously. If players reach six blocks, then the player who's pressing the buttons the slowest will automatically get crushed and the other player will win the minigame.
[edit]
Controls
Press each button as shown on the block repeatedly and simultaneously.
Last edited by
canderson
on 11 July 2013 at 21:07
This page has been accessed 163 times.