Buddy Bounce
Buddy Bounce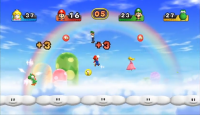 Buddy Bounce as shown in Mario Party 9.
Buddy Bounce is a Free-for-All Minigame that appears in Mario Party 9. Players must bounce on the clouds to collect as many balloons as they can. Yellow balloons are worth one point, green balloons are worth three points, and red balloons are worth ten points. Red balloons are impossible to reach by bouncing on the clouds alone. Players have to bounce on the head of another player to reach the higher, red balloons. The player who obtains the most points within the time limit will win the minigame.
[edit]
Controls
Use the Control Pad to Move.
Related Threads
Bounce (2000)
- last post by
@ Dec 3, 2014
Last edited by
canderson
on 20 April 2012 at 18:06
This page has been accessed 265 times.