Bounce 'n' Trounce
Bounce 'n' Trounce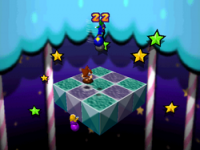 Bounce 'n' Trounce as shown in Mario Party 3.
Bounce 'n' Trounce is a 4 Player Minigame that appears in Mario Party 3. The objective is for players to use their bouncy balls to knock their opponents off the field. The bouncing balls have a spinning attack that will knock back the opponents when hit. As time passes, parts of the field will collapse. The last person standing will win the minigame.
[edit]
Controls
Control Stick - Move
A - Jump
A + Z - Attack
Last edited by
canderson
on 21 February 2012 at 18:57
This page has been accessed 277 times.