Bombard King Bob-omb
Bombard King Bob-omb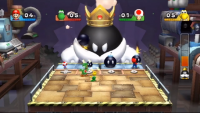 Bombard King Bob-omb as shown in Mario Party 9.
Bombard King Bob-omb is a Boss Minigame that appears in Mario Party 9. Players must select one of 4 bombs, using the D-Pad, A, 1, or 2 button, and toss them at King Bob-omb. The bombs are of 3 sizes: small Bob-omb earning you one point, medium Bob-omb earning you two points, and the large Bob-omb earning you three points. The catch with this minigame is that players can not select the same bomb, otherwise they won't be able to toss them and earn points.
If there are only two players competing in this minigame, then King Bob-omb will randomly grab and toss away a bomb after both players has selected one. Therefore, there's a chance he will toss away your bomb after you have selected it, not allowing you to earn points.
When King Bob-omb's life bar reaches the midpoint, he will toss a bomb at the players who fail to toss a bomb at him. Players who get hit by a bomb will lose one point. With two people, King Bob-omb will toss one of the four Bob-ombs that are up for selection at the players. Therefore, with two people, players can lose up to three points, depending on the size of the bomb he tosses at you.
The player with the most points will obtain the most Mini Stars.
[edit]
Controls
Hold The Wii Remote sideways.
D-Pad - Select a bomb
A - Select a bomb
1 - Select a bomb
2 - Select a bomb
Related Threads
How to kill a King Bob-omb.
- last post by
@ Aug 8, 2011
how do you grab the bob-omb king?
- last post @ Mar 6, 2005
If you were a bob-omb what would you do???
- last post by
@ Apr 15, 2009
Boss plus level DK-5+ (Bob-ombs and conveyors) - help
- last post @ Jul 11, 2012
the bob-omb brothers *chapter7- may be a spoiler for some*
- last post by
@ Oct 20, 2004