Bill Blasters
Bill Blasters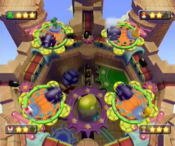 Bill Blasters as shown in Mario Party 5.
Bill Blasters is a Battle Minigame appearing in Mario Party 5. Players are on the platform along with their cannons. The players platform are spinning in circles. The goal is to fire Bullet Bills towards your opponents. Since the platforms are always spinning, players must carefully time their shots. When a player is hit, their platform will spin more slowly, allowing for better accuracy. Get hit 3 times and the player will be eliminated. The last player standing will win the minigame.
[edit]
Controls
Related Threads
bill blasters
- last post @ Dec 19, 2003
Battle of the Baddies [Starring Bill Cosby! Mach 2]
- last post by
@ Mar 3, 2006
Mini Mario + Bullet bill = fun
- last post by
@ Feb 10, 2010
Last edited by
canderson
on 11 July 2013 at 19:49
This page has been accessed 219 times.