Baby Bowser Bonkers
Baby Bowser Bonkers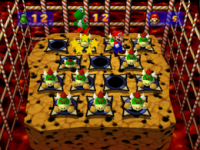 Yoshi and Mario playing Baby Bowser Bonkers.
Baby Bowser Bonkers is a Duel Minigame featured in Mario Party 3. This minigame is based on Whack-A-Mole. The objective is for players to simply jump on as many Baby Bowser heads, that appear from the ground, as possible within the time limit. You obtain one point for each Baby Bowser you jump on. The player who obtains the most points when time expires will win the minigame.
[edit]
Controls
Control Stick - Move
A Button - Jump
Related Threads
Koopa Kid. Is he Baby Bowser?
- last post by
@ Mar 8, 2008
Baby Bowser
- last post by
@ Sep 7, 2005
finding babies - bowser's castle
- last post by
@ Nov 8, 2009
Baby Bowser
- last post by
@ Aug 14, 2005
Is Baby Bowser's Mom actually Peach??
- last post @ Aug 6, 2015
Last edited by
canderson
on 30 November 2011 at 09:57
This page has been accessed 383 times.