+ Clock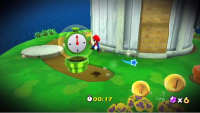 The Timer is an item that was first seen in Super Mario Galaxy 2. It is a green clock that has a knob on the top, with the minute hand pointed at it. They appear in many of the Speedy Comet missions and can add ten seconds to a player's time, which starts at twenty or thirty seconds. They are needed to be collected in order to complete the mission. They appear in Speedy Comet missions: Sky Station Galaxy, Bowser's Lava Lair, Bowser's Gravity Gauntlet, Bowser's Galaxy Generator, and Stone Cyclone Galaxy.
They would also appear in Super Mario 3D Land and have the same purpose. They will refill the time so the player can complete the level. Blue Timers appear in World 6-3 for the haunted house stage. The Blue clocks would only add 10 seconds to the timer, while the green timers would add 100 seconds.
The Green + Clocks appear in New Super Mario Bros. 2. These clocks will only add 50 seconds to the timer instead of 100 seconds like previous games.
Related Threads
Clock Tower
- last post by
@ Dec 17, 2008
The House with a Clock in its Walls (2018)
- last post by
@ Mar 27, 2018
AWESOME DSi CLOCK!
- last post by
@ Dec 23, 2010
Clock Level?
- last post by
@ Jan 13, 2007
Tic-Toc Clock course 1 luigi in cage
- last post by
@ Dec 4, 2004