Yellow Egg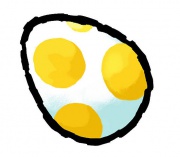 The Yellow Egg is a type of Yoshi Egg that would first appear in Super Mario World. When the player draws close to the egg in Super Mario World, it will hatch into a Baby Yellow Yoshi. The Yellow Egg would play a more important role in Super Mario World 2: Yoshi's Island. When a Green Egg recoils off a wall, it will turn into a Yellow Egg. The Yellow Egg could also be found in yellow Egg Blocks.
Related Threads
Can't find Yoshi's Egg!
- last post @ Mar 15, 2007
Yoshi Egg in Gelato Beach
- last post by
@ Apr 6, 2006
Easter Eggs (DVD Secrets)
- last post by
@ Mar 27, 2004
what olor is the egg supose to be???
- last post by
@ Nov 28, 2004
Last edited by
Gotenks
on 5 August 2012 at 06:39
This page has been accessed 224 times.