Wuhu Town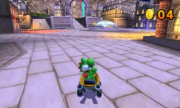 Wuhu Town would be a battle course that takes place during the night in the town from Wuhu Island. It is the third battle course in Mario Kart 7. It would have buildings all over the area with it looking it feeling like a maze. There would be a fountain located in the center of the stage that allows the players to perform a trick on. Three small hills could be found on this course that lead to a small grass-covered area and a arch that allows the player to see over the town and a cruise ship with a blimp saying Wii. Item Boxes are found throughout the stage and the city is fenced off by a metal fence so it cannot be excited.
Last edited by
Gotenks
on 26 December 2011 at 22:02
This page has been accessed 199 times.