Will Flower
Will Flower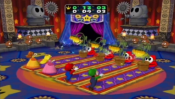 Will Flower as shown in Mario Party 5.
Will Flower is a 4 Player Minigame appearing in Mario Party 5. The flowers are dying and the players must send their "willpower" towards their respective flower to restore their health. As they are sending the willpower, the flower will slowly rise up. The first player who's plant fully restores back to health will win the minigame.
[edit]
Controls
Related Threads
Fire flower vs. Ice flower
- last post by
@ Mar 7, 2010
Help where is the flower hiding in W 1-8
- last post @ Jan 6, 2007
Hover flower soft crash glitch
- last post @ Jan 2, 2015
The Fire Flower is Back!!
- last post by
@ Aug 22, 2007
Flower World 1 Secret Exit
- last post by
@ Aug 13, 2013
Last edited by
canderson
on 6 July 2013 at 21:07
This page has been accessed 32 times.