Wario's Gold Mine
(Redirected from Wii Wario's Gold Mine)
Wario's Gold Mine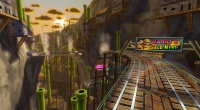 Wario's Gold Mine as it appears in Mario Kart Wii
Wario's Gold Mine is the fourth track of the Flower Cup in Mario Kart Wii. Thin roads with no railings result in plenty of deaths in this fun but frantic death dealer of a circuit, so use wheelies and drifts sparingly and briefly. Purple bats will slow you down on entering the mine, so swerve out of the way to avoid them. There's a superb shortcut tucked away in the Indiana Jones-style mine kart section, which should always be taken - the karts will seemingly disappear off to the left at one point, while the course points you to the right via large signposted arrows. Ignore the arrows and follow the mine karts instead, jumping over a ledge and into a hidden tunnel with three speed pads and a big old jump at the end.
Related Threads
Wario's Gold Mine Ultra Shortcut
- last post by
@ Dec 21, 2010
Last edited by
piplup17
on 3 August 2017 at 11:59
This page has been accessed 624 times.