Wiggler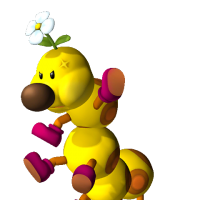 Wiggler is an enemy in the Mushroom Kingdom in the shape of a caterpillar. When it's in it's calm forum, it's yellow, and his gently smiling with a flower on it's head. However, when it gets angry, it turns red and steams around, moving at much faster paces. Wiggler has become one of the most used Mario Characters appearing in many of the Mario RPGs, Mario Sports Titles, and as a hazard in many Mario Kart Tracks.
[edit]
Game Appearances
Wiggler is set to appear in the upcoming Nintendo 3DS title, New Super Mario Bros. 2.
Related Threads
Wiggler!!! Please Help!!
- last post by
@ Feb 20, 2013
Poor Wiggler & his "Children" Cutscene (Gameplay Footage)
- last post by
Gotenks
@ Oct 28, 2012
How do you defeat Wiggler?
- last post @ Feb 17, 2010
Can't get to wiggler!
- last post by
@ Mar 28, 2007
Wiggler's 4th body segment!
- last post @ Jan 2, 2016